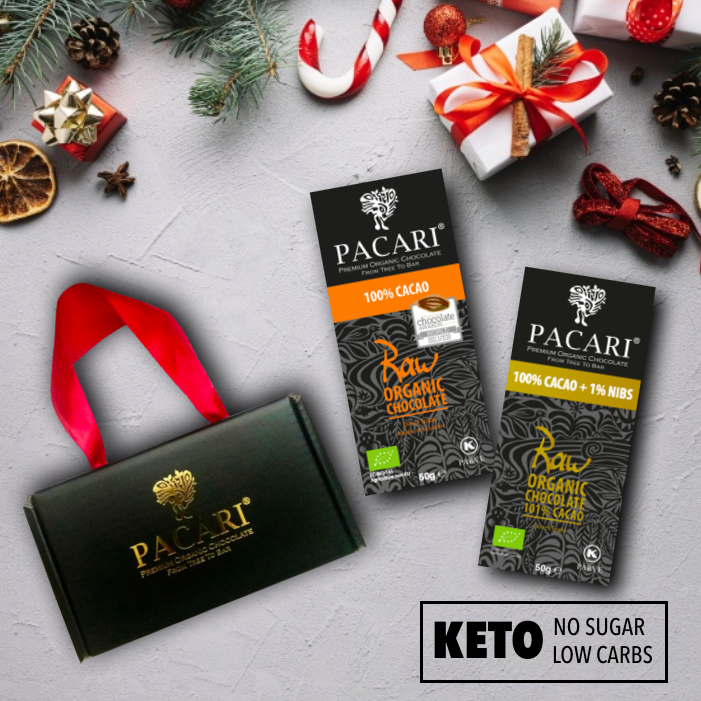 Christmas Gift - Keto Diet Buddy
Description
Are you on a Keto Diet and had to say goodbye to your Chocolate Cravings? Or Are you having headache looking for Christmas Gift for your Keto Friend?
We hear you!! We have specially curated this Gift Set of Keto Chocolates to fix your gifting concerns. hehe
** Please note that all your Chocolates are made fresh and air-flown in from Ecuador. Because of that, we will only be able to courier your chocolates on 4th December :)
Raw Organic Dark Chocolate (100%)
The 100% cacao bean bar has hints of fruit and spices with a perfect balance of slight acidity and bitterness. All of the cacao ingredients in raw chocolate are minimally processed and kept at low temperatures to maintain the antioxidants and complex flavours of the natural cacao bean.
Raw Organic Dark Chocolate (100%) + 1% Nibs
Can't get enough of our 100% Raw Chocolate?
RAW 101% is basically our 100% Raw + 1% of Cacao Nibs. The cacao nibs inside gives you an added crunch onto the smooth pure chocolate bar.
Fun Facts :
Did you know that cacao nibs is actually a superfood that helps to improve your health in many ways?
Gift Includes



1 Raw Organic Dark Chocolate (100%)
1 Raw Organic Dark Chocolate (100%) + 1% Nibs
1 Premium Gift Box
Nutritional Fact
Raw Organic Dark Chocolate (100%)
Nutritional Fact per 50g
Energy (Calories) – 1540 kJ
Fat – 35.5 g
Of which Saturated Fat – 20.5 g
Carbohydrates – 3.5 g
Of which Sugars – 0 g
Protein – 8.5 g
Salt – 0 g
Raw Organic Dark Chocolate (100%) + 1% Nibs
Nutritional Fact per 50g
Energy (Calories) – 1659 kJ
Total Fat – 38 g
Saturated Fat – 22 g
Carbohydrates – 5 g
Sugar – 0 g
Protein – 8.5 g
Salt – 0 g