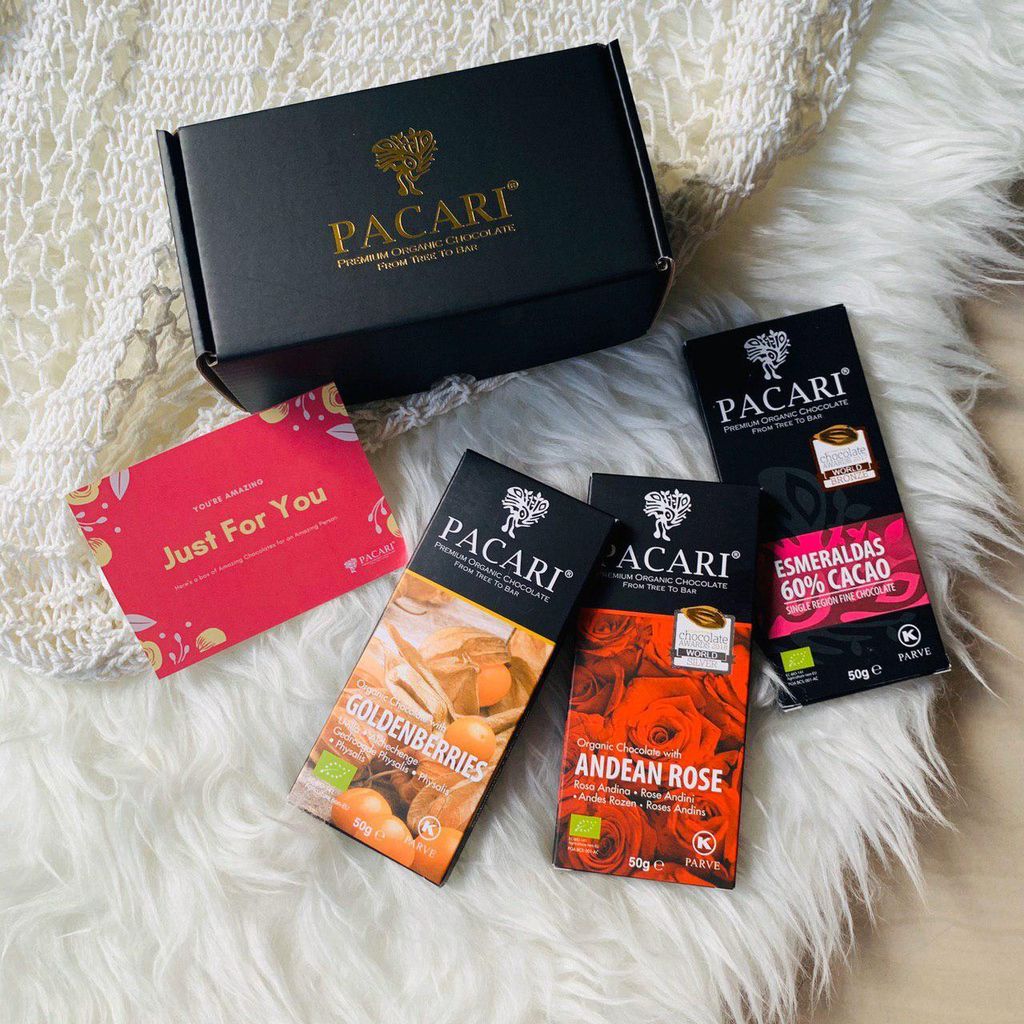 Magical Trio [ PACARI Gift Box ]
Magical Trio [ PACARI Gift Box - 3 Bars ]
Feeling playful and adventurous today? Go for the Magical Trio Gift Box!
3 Chocolate Bars in a box that guarantees to bring your palate to an Adventurous. From Smooth & Creamy from Esmeraldas 60% to Tangy Refreshing from Goldenberries 60% and finishes off with a Sense of Refreshing by our Coffee 60%
Carefully curated for those who is adventurous and is ready to have fun with their Chocolate Experience.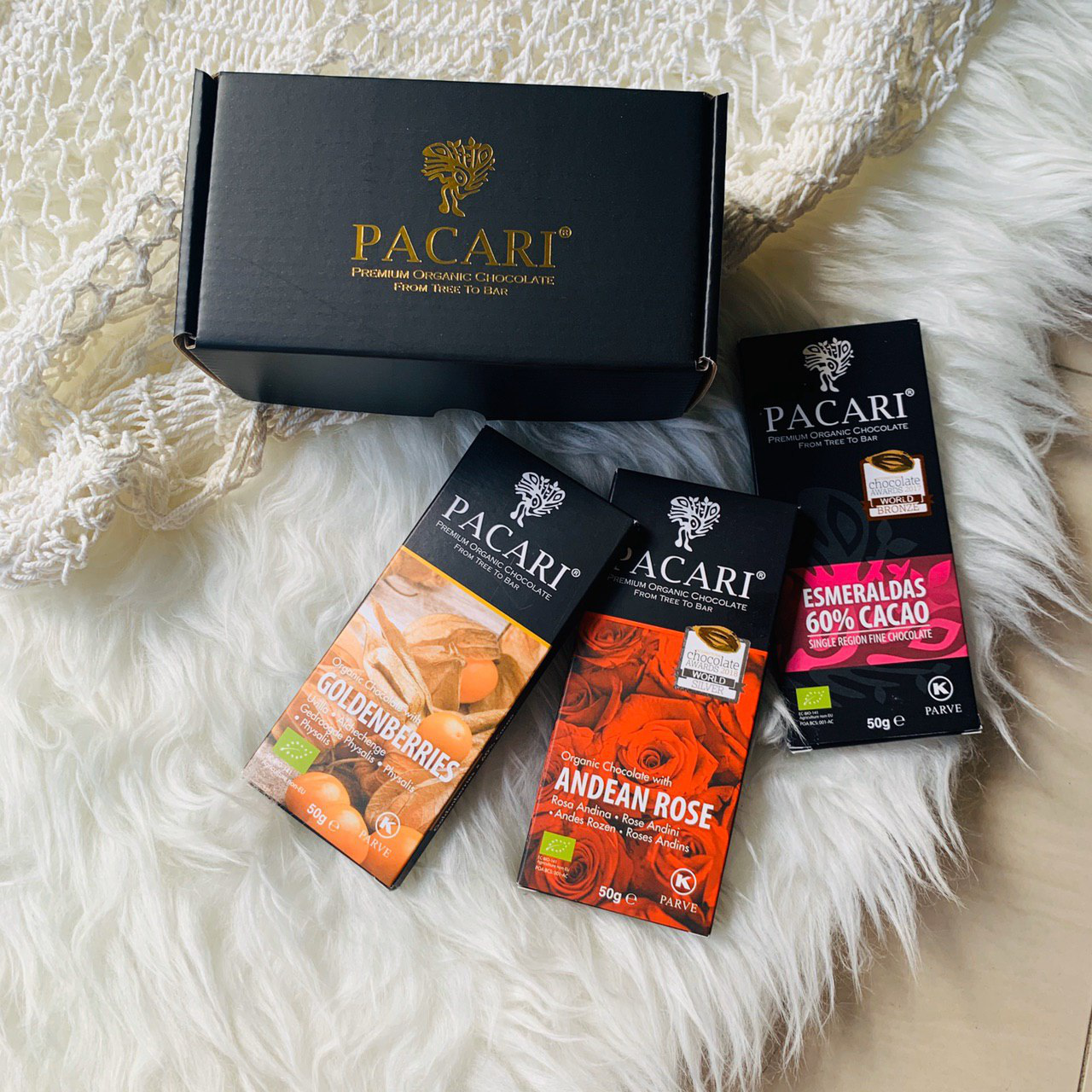 This Gift Set includes :
1 x Goldenberries Organic Chocolate Bar (60%)

1 x Esmeraldas 60% Organic Chocolate Bar

1 x Rose Organic Chocolate Bar (60%)

1 x PACARI Premium Black Box

1 x Message Card



If you need Same Day Delivery via lalamove, Please WhatsApp us at https://wa.me/60133305600/

before purchasing. Price exclude Delivery Charges
What's special about Esmeraldas 60% Cacao Organic Chocolate?
PACARI Esmeraldas Chocolate Bars are made with some of the rarest and most delicious cacao beans on earth. This bar specifically contains cacao from the Ecuadorian region of Esmeraldas, a coastal city in Northeastern Ecuador known for producing some of the finest cacao.

This bar is a plain chocolate bar. NO flavouring added into it. However, due to the climate and the soil of this region, you will experience different layer of floral and fruity note as the chocolate melt slowly on your tongue.

Perfect for those who are new to Dark Chocolate and love semi sweet chocolate. Alot of our customers are surprised when they found out that Esmeraldas DOES NOT contain any milk in ti, because it taste so smooth and creamy just like Milk Chocolate.

P/s: If you're a Vegan or having Lactose Intolerant, but at the same time crave for Milk Chocolate, PACARI Esmeraldas Chocolate Bar is crafted specially for You! :)
Awards Won :


Bronze Medal, World Finals, International Chocolate Awards 2017

Winner, Great Taste Awards 2016
What's special about Goldenberries Chocolate Bar?
Golden Berries, or Physalis, are becoming increasingly known for their health benefits and their unique tart to sweet taste. In this bar the sweetness of our award-winning chocolate is offset by the Golden Berries citrus flavour providing a unique experience on your palate.
Award Won :


Silver Medal, World Finals, International Chocolate Award 2017
3 Reasons why you should take Dark Chocolate daily :
Recommended : 1 - 2 squares, every morning
1. Rich in Antioxidant
Cacao contains flavonoids, antioxidant compounds which are said to protect against cell damage caused by free-radicals. Research has found that they are especially beneficial with regard to blood flow. They help to lower blood pressure, promote normal blood clotting function and – as part of a healthy diet and exercise routine - have been said to decrease the risk of heart disease.
2. High in Minerals
Raw chocolate is also high in minerals such as iron, magnesium and manganese which help to sustain energy levels and protect cells.
3. Brain Food
One of the most exciting discoveries is that chocolate could reverse memory decline. A study by Columbia University found that high-flavonol cacao rejuvenated activity in the part of the brain where the decline occurs. The flavonols promoted blood flow to this cranial region and in some cases, incredibly, researchers saw participants' memories restored to that of someone twenty or thirty years younger.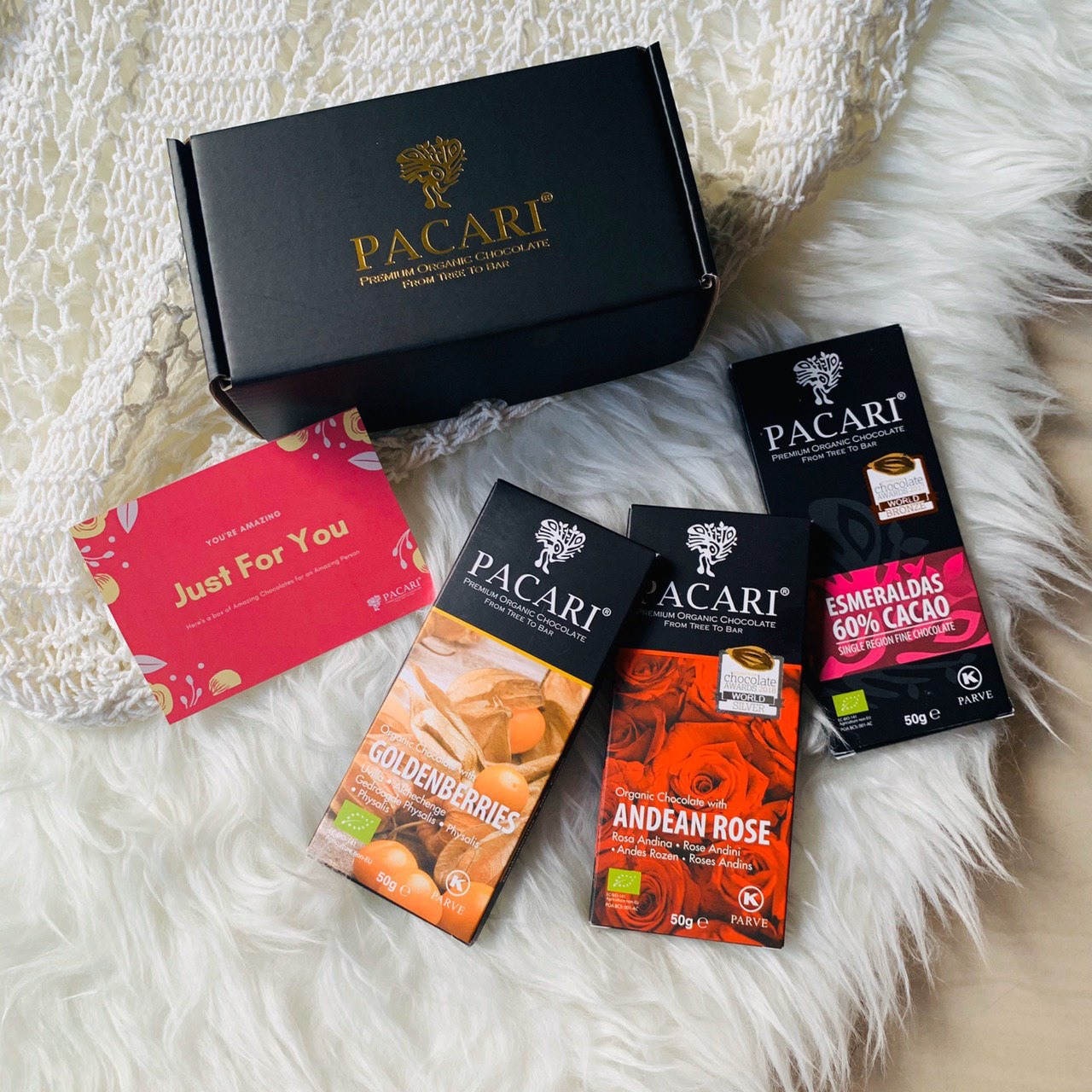 REVIEW
What Our Customer Says :
"Very Thoughful
First Time buying PACARI. Was looking for a surprise gift for my GF and am not sure what to get initially. Rachel from Customer Service recommended this after much discussion. They're very thoughful and accomodating. My GF is so happy to receive this surprise and she loves the chocolate"
WARREN L
"Happy Customer
Bought this as a treat for myself during the MCO Period. Super tasty. Love the combo of these 3 bars"
SANDRA T