Organic Chocolate Couveture - 60% [1kg]
Organic Chocolate Couveture - 60%
That slight bit of courverture that gives your Chocolate Bakes a rich Aroma of Cacao that fills the room!
89% of our Customers says that by using this Courverture in their Baking, they only need 1/3 of the amount of chocolates they normally used, when using other brand of Baking Chocolates.
NOTE : This is a Special Product, air flown from Ecuador for you in Preparatoin for your Baking Needs this Christmas. Limited Quantity. We will not be able to restock, once this batch of shipment is finish.
Why Choose Couverture for your Baking?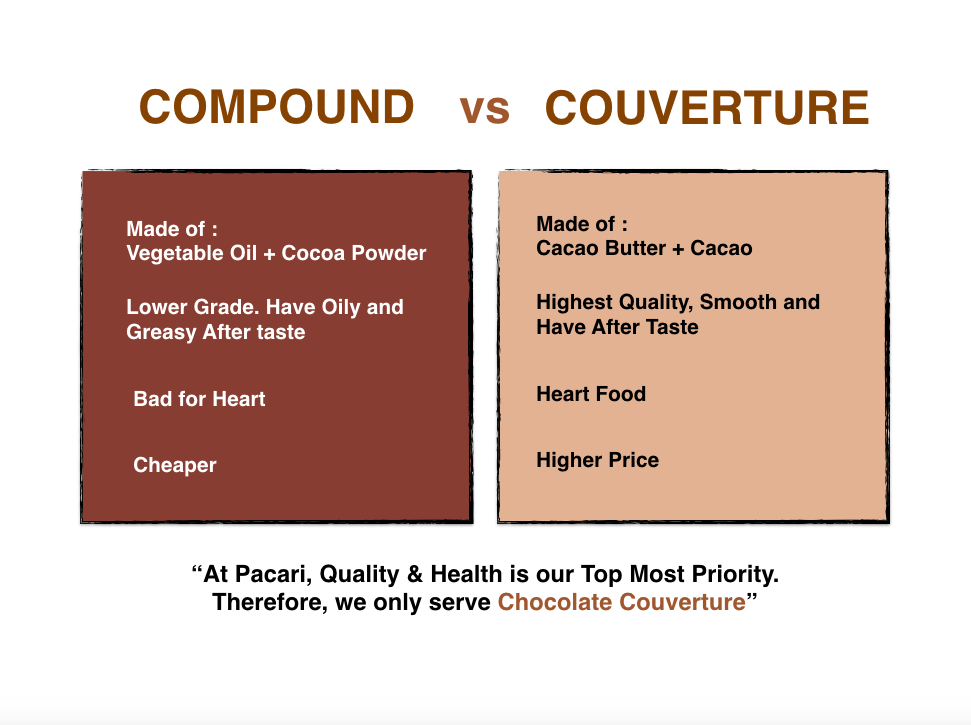 3 Reasons why you should take Dark Chocolate daily :
Recommended : 1 - 2 squares, every morning
1. Rich in Antioxidant
Cacao contains flavonoids, antioxidant compounds which are said to protect against cell damage caused by free-radicals. Research has found that they are especially beneficial with regard to blood flow. They help to lower blood pressure, promote normal blood clotting function and – as part of a healthy diet and exercise routine - have been said to decrease the risk of heart disease.
2. High in Minerals
Raw chocolate is also high in minerals such as iron, magnesium and manganese which help to sustain energy levels and protect cells.
3. Brain Food
One of the most exciting discoveries is that chocolate could reverse memory decline. A study by Columbia University found that high-flavonol cacao rejuvenated activity in the part of the brain where the decline occurs. The flavonols promoted blood flow to this cranial region and in some cases, incredibly, researchers saw participants' memories restored to that of someone twenty or thirty years younger.
REVIEW
What Our Customer Says :
"Secret to yummy Vegan Dessert
Who says Vegan Dessert cannot be Yummy?! Throw in Pacari Courveture in your recipe and I bet your chocolate cakes and cookies will taste even better than those non-vegans ones"
ANASTACIA K
"OMG! NO MORE TURNING BACK
I'm a Home Baker. When I was first introduced to this product, i said No to it immediately. It's too pricey and its gonna increase my cost. After listening to Daphne's presentation, I decided to maybe try 1 packet out. Its Crazy!! The chocolate fragrance filled up my kitchen and to my surprise I do not need to put in so much chocolate as before, to get the chocolate taste.

My cakes taste wayyyy better now after adding this and yet the cost is almost the same compared to before. (last time I need to put in more chocolate to get the chocolaty taste) "
GAN