Goldenberries Organic Chocolate Bar (60%)
Goldenberries Organic Chocolate Bar (60%)
The rich and creamy chocolate bar that pairs with Tangy Organic Goldenberries that will definitely seduce your tongue and make you ask for more!
What's special about Goldenberries Chocolate Bar?
Golden Berries, or Physalis, are becoming increasingly known for their health benefits and their unique tart to sweet taste. In this bar the sweetness of our award-winning chocolate is offset by the Golden Berries citrus flavour providing a unique experience on your palate.
Why Golden Berries?
The goldenberry has also been used for centuries in traditional medicine, often to help cure jaundice.
However, the real value of the golden berry is its' antioxidant concentration. The golden berry consists of polyphenols and carotenoids, which are powerful elements of human health. When combined with other nutrients, these antioxidants make the fruit very desirable.
Golden berries have an impressive nutrient profile.
Awards Won :


Silver Medal, World Finals, International Chocolate Award 2017
3 Reasons why you should take Dark Chocolate daily :
Recommended : 1 - 2 squares, every morning
1. Rich in Antioxidant
Cacao contains flavonoids, antioxidant compounds which are said to protect against cell damage caused by free-radicals. Research has found that they are especially beneficial with regard to blood flow. They help to lower blood pressure, promote normal blood clotting function and – as part of a healthy diet and exercise routine - have been said to decrease the risk of heart disease.
2. High in Minerals
Raw chocolate is also high in minerals such as iron, magnesium and manganese which help to sustain energy levels and protect cells.
3. Brain Food
One of the most exciting discoveries is that chocolate could reverse memory decline. A study by Columbia University found that high-flavonol cacao rejuvenated activity in the part of the brain where the decline occurs. The flavonols promoted blood flow to this cranial region and in some cases, incredibly, researchers saw participants' memories restored to that of someone twenty or thirty years younger.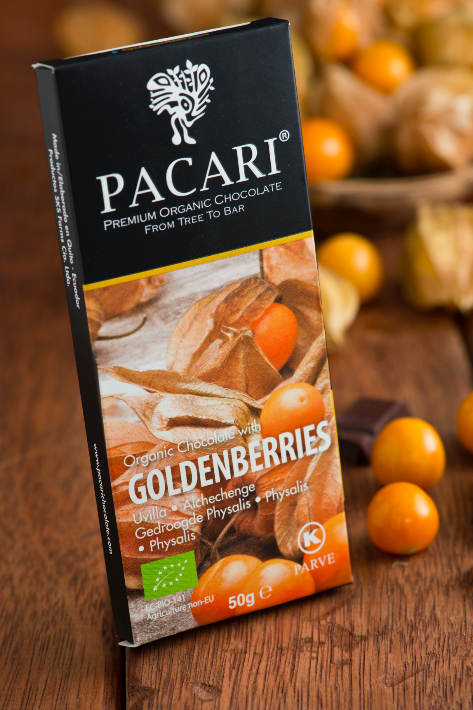 Nutritional Facts
| | |
| --- | --- |
| | per 100g |
| Energy | 2296kJ/ 548kcal |
| Fat | 36g |
| of which : Saturated Fat | 18g |
| Carbohydrate | 49g |
| of which : Sugar | 49g |
| Fibre | 7g |
| Protein | 7g |
| Salt | 0.04g |
REVIEW
What Our Customer Says :
"I'm Surprised!
I ordered this randomly because I liked the look of the bar and decided I should go away from my usual choices and give it a try. I do eat Physalis/Goldenberries, but they are not exactly my favourite fruit, so I was extremely suprised by this chocolate!
Lovely and rich with a nice citrus flavour and some unexpected crunch. I absolutely LOVE this chocolate, definitely my new favourite one. 10/10"
KEN C
"Delicious
This chocolate is so unusual yet delicious at the same time. I absolutely loved it."
KATHERINE L