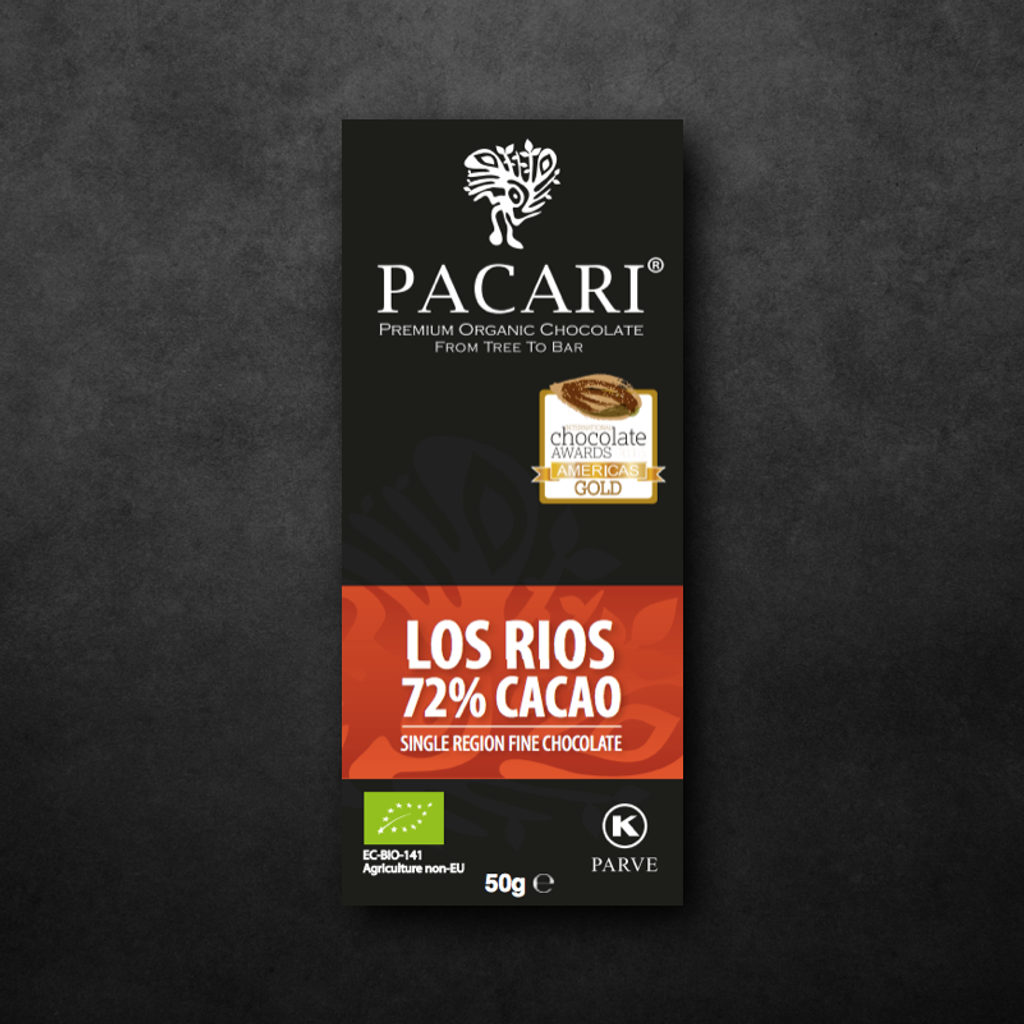 Los Rios 72% Organic Chocolate Bar
Los Rios 72% Organic Chocolate Bar
That Special Plain Chocolate Bar that let you experience PACARI Chocolate Bar at its best. No flavouring added but because of the unique climate in Los Rios, you will experience the strength of the cacao complimented with notes of fruit blossom and a subtle finish of roasted coffee.
Classic item that must not be missed, if this is your first time experiencing PACARI.
What's special about Esmeraldas Chocolate Bar?
PACARI Los Rios Chocolate Bars are made with hand selected organic cacao beans from specific regions of Ecuador and Latin America. With each bar you will discover the distinct taste of each terroir. These bars are 1 in a million. Made with some of the rarest and most delicious cacao beans on earth. The cacao in this bar is from Los Rios, an area of Ecuador known for its tropical rain forests.

This bar is a plain chocolate bar. NO flavouring added into it. However, due to the climate and the soil of this region, this chocolate bar will make you feel like you are in a rain forest. You will taste the strong cacao with floral notes and a hint of roasted coffee.

If you're a true chocolate fans, you should get this Chocolate Bar together with Esmeraldas 60% and Raw 70% to experience the full taste of PACARI at its finest.


Awards Won :


Gold Medal, World Finals, International Chocolate Awards 2017

Silver Medal, World Finals, International Chocolate Awards 2016

Winner, Great Taste Awards 2017
3 Reasons why you should take Dark Chocolate daily :
Recommended : 1 - 2 squares, every morning
1. Rich in Antioxidant
Cacao contains flavonoids, antioxidant compounds which are said to protect against cell damage caused by free-radicals. Research has found that they are especially beneficial with regard to blood flow. They help to lower blood pressure, promote normal blood clotting function and – as part of a healthy diet and exercise routine - have been said to decrease the risk of heart disease.
2. High in Minerals
Raw chocolate is also high in minerals such as iron, magnesium and manganese which help to sustain energy levels and protect cells.
3. Brain Food
One of the most exciting discoveries is that chocolate could reverse memory decline. A study by Columbia University found that high-flavonol cacao rejuvenated activity in the part of the brain where the decline occurs. The flavonols promoted blood flow to this cranial region and in some cases, incredibly, researchers saw participants' memories restored to that of someone twenty or thirty years younger.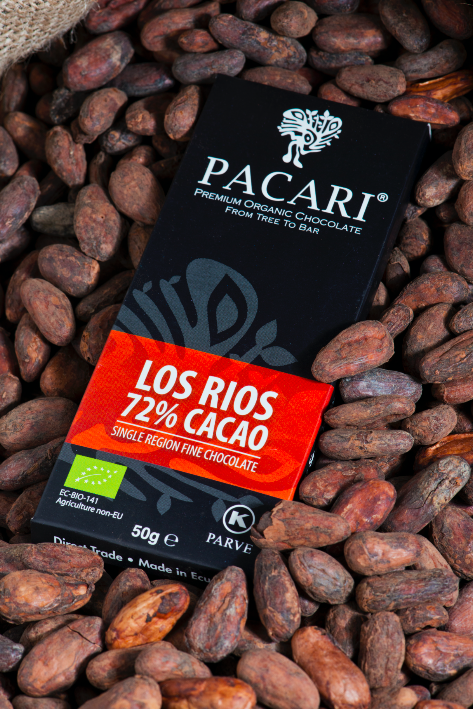 Nutritional Facts
| | |
| --- | --- |
| | per 100g |
| Energy | 2321kJ/ 554kcal |
| Fat | 42g |
| of which : Saturated Fat | 27g |
| Carbohydrate | 24g |
| of which : Sugar | 28g |
| Fibre | 20g |
| Protein | 10g |
| Salt | 0g |
REVIEW
What Our Customer Says :
"Best chocolate ever!
I love this chocolate! I tried several flavors and loved them all. It is worth the cost. You get what you pay for and this is wonderful!"
FELICIA C
"Well Deserved Award

Delicious chocolate, a cream rich chocolate, notes of cherries, dried fruits among other flavours from the cacao beans. I love great chocolates and this is definitely one of them, complex, delicious and amazing."
ROBERT T
"don't think twice - go for it!
It felt like a punch in the face. By accident I´ve tried this chocolate. My first Pacari ever. I couldn't believe what I was tasting. It was rich, bold, wild, lucious. And at the same time fruity, velvety, mellow. It was evoking a cacao bean at my inner eye. It was just the most authentic taste I´ve tried. I didn't care that the bar is quite thick - even as I like as thin as possible. Cause this is what I call worth to make a 10 mile walk for. thank you Pacari. you're doing really great!"
DIYANA AZMAN